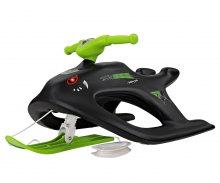 From Winter 2009 onwards, it's going to be incredibly cool on the snow slopes. That's because the BIG-Bobby-Bob Wild Spider in stylish black with awesome bright green stickers will be under starter's orders. Perfect ergonomics and a child-friendly design, combined with the very latest style features are guaranteed to make the BIG-Bobby-Bob Wild Spider a huge star on all mogul pistes and sledging slopes. What makes this high-quality ""snow mobile"" manufactured from cold-resistant and UV-resistant plastic really impressive is its many exciting features which offer tremendous play value. The superior suspension in the steering axle smooths out unevenness. The integrated horn in the ergonomically profiled handlebars provides additional safety. Rustproof, removable metal runners ensure track stability and protect against wear. Just like the BIG-Bobby-Car, the BIG-Bobby-Bob has a knee recess which in addition to the normal sitting position, allows other driving positions to be adopted when little drivers depart on their exciting journey.  
€64.95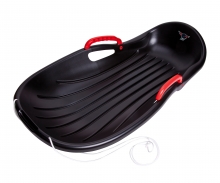 Measuring almost a metre long and 53 cm wide, the new BIG Snow Carver (comfort) offers maximum levels of fun when sledging to all snow sports enthusiasts aged 5 and above. With its optimised carving profile, it can be easily steered by shifting your weight making your descent particularly exciting. Maximum safety is provided with handles on each side for stopping and braking. If you operate just one of the brake levers, you can guide the sledge into sharp curves or elongated arcs. The cold-resistant plastic ensures the BIG Snow Carver Comfort's excellent durablity down to – 20 °C . The sledge also has a long rope with which to pull it back up to the top of the slope. Its robust construction allows loads of up to 60 kg.
€25.95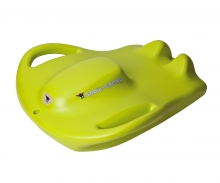 BIG-SNOW-SPEEDY, le bolide au siège de forme anatomique, aux poignées ergonomiques et au profil de glissement spécial. Charge maximale : 100 kg.
€25.95
Informations relatives à l'expédition
Si vous avez mis cet article dans le panier, l'adresse de livraison de votre commande est limitée aux pays suivants :