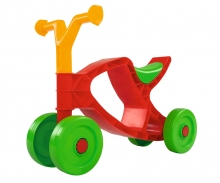 Whether the little ones are out on their travels or simply racing around at home, with the BIG-Flippi kids will always be able to ride comfortably and safely. What makes this cute little scooter for children from the age of 18 months so impressive is its contemporary and colourful design. The easy-grip handle bars are equipped with extra wide ends to protect kids from eye damage. Due to its handy and space-saving design, the BIG-Flippi is the ideal travel toy. The colourful scooter can be easily stored away and taken wherever you go. And if those tiny feet need a break after a long journey, the light-weight BIG-Flippi can be picked up and carried without any problem.  
€15.95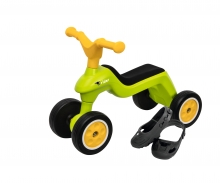 The BIG Rider is perfect for little explorers from the age of 18 months and a height of 80cm, enabling them to practise their balancing skills while enjoying the stability of four wheels. And for those slightly more "off-road" trips, the BIG Shoe Care included in the set reliably protects shoes from scuffing. Just as importantly, the BIG-Rider is a ride-on that looks fun too with its fresh and funky design in vibrant yellow and lime green with black accents.   Made in: Germany
€58.40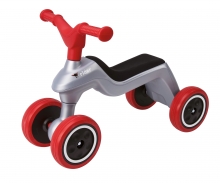 The BIG Rider is a children's ride-on of the latest generation, with well thought-out technology with a modern design for children of 18 months and above and up to 80 cm in height. Little drivers can improve their sense of balance and coordination with the BIG Rider. This fun children's ride-on from BIG, the manufacturer of the BIG Bobby Car, combines ergonomic design and a high degree of comfort and safety. Four large, wide wheels made from soft plastic provide a good grip and perfect riding characteristics and leave no marks on flooring. The steering with pendulum axle gives the ride-on a small turning circle and safe riding around corners. Undulations and slopes are compensated for immediately. In order to give the little driver a firm grip, the BIG Rider has an ergonomic steering wheel with wide safety handles. A special highlight is the wide seat with soft foam covering. This makes riding on the BIG Rider extremely comfortable. If the seat gets dirty, it can be conveniently removed and washed off by hand. Like all BIG ride-ons, the BIG Rider is manufactured in Germany and bears the TÜV Rheinland GS symbol (Geprüfte Sicherheit = Tested for Safety).   
€39.95
Shipping Information
If you put these articles in your shopping cart, the shipping address of your order is restricted to the following countries: