A load of sand is quickly transported with the BIG Power Worker Tractor + Dump Trailer. The large tractor with its multi-directional bucket is the ideal vehicle for large and small work. With a volume of up to one litre, the dump trailer is equally spacious and can be effortlessly emptied by means of the swivelling tailgate. For all young would-be farmers from the age of 2 there is now the correct vehicle for any occasion. Because the BIG Power Worker Line makes digging and building so much fun. The design of this new tractor is specially geared to the ergonomics of young children's hands. And as a special extra, the BIG Power Worker Tractor + Dump Trailer has robust soft tyres as standard. This makes it ideal for playing outdoor or in the children's room.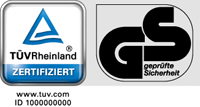 Dimensions assembled (L x W x H): 66 x 20 x 23 cm
Product weight: 1300 g
BIG-Power-Tractor Dumper
Article number: 800056838
Age recommendation: 2 - 5 years
| | | | |
| --- | --- | --- | --- |
| | currently not in stock | Quantity: | |
,

Unser Sohn hat ihn bekommen, da war er noch zu klein dafür. Jetzt ist er 1 1/2 und er spielt seit einem dreiviertel JAhr täglich damit! Er liebt ihn abgöttisch und fährt täglich damit durch unsere Wohnung und läd alles auf was er findet!
Man sieht dem Traktor überhaupt nichts an und durch die weichen Räder haben wir auch keine Spuren in der Wohnung!
Sehr zu empfehlen!!!!
Shipping Information
If you put these articles in your shopping cart, the shipping address of your order is restricted to the following countries: