---
Sort by:
Top sellers
New
Price ascending
Price descending
Filter
---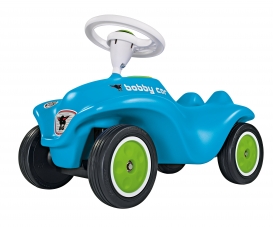 New
BIG New Bobby Car RB3
Especially parents who love to be up to date will love the BIG New Bobby Car RB3. It comes with a body in  turquoise and wheel rims and a horn in bright green which is also one of the much loved colour combinations for sports equipment. Since 2004 the BIG-New-Bobby-Car has been a great addition to the BIG product range. Featuring streamlined 21st Century design and a car body which has been specially designed to meet the needs of kids, as well as extras offering tremendous play value, the BIG-New-Bobby-Car is the perfect vehicle for youngsters. The new model has also retained and improved all the essential features of the classic model such as the shape which encourages healthy development, the leg rest and the knee recess for older children. As standard, the BIG New Bobby Car RB3 is equipped with an ergonomic steering wheel with a wide grip surface and high quality whisper tyres to ensure excellent road holding and low driving noise. A secret compartment is hidden behind the speedometer for storing those precious little treasures! Innovative wheel rims and hub caps, along with contemporary graphics, provide the perfect finishing touches. The BIG New Bobby Car RB3 is made from high-grade materials in Germany and has been tested by the TÜV Rheinland Group according to the strict Directives for Certified Safety.   Made in: Germany
More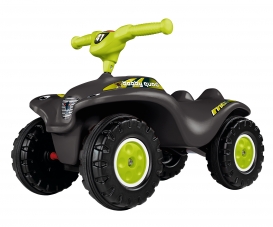 New
BIG-Bobby-Quad Racing
€70.99
The BIG-Bobby-Quad Racing is the ideal ride-on car for kids from the age of 3 years. This ride-on vehicle based on the design of the BIG-New-Bobby-Car and cool steering wheel are manufactured from high-quality materials. The chunky wheels have a profile with exceptional grip and low-noise tread rings to ensure maximum fun whilst driving! With the safety handle bars, a low centre of gravity and ergonomically designed leg rests, younger and older kids will be able to travel comfortably and safely. Just like the BIG-New-Bobby-Car, this model has as standard two trailer couplings and a secret compartment for those delicious gummi bears! At the same time, the secret compartment also provides the base for the BIG accessory modules such as blue light, ignition key or sound set.
More